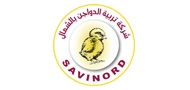 ---
SAVINORD is a hatching and chick production company created in 1995 in the Tabarka region in northwestern Tunisia.
Thanks to the know-how of its teams and the continuous development of its incubation techniques, the company has succeeded in developing an exclusive method allowing it to produce 2-day-old super-chicks, fed and watered as soon as they hatch. egg, i.e. at least 24 hours before any conventional chick.
With a production capacity of 16 million chicks per year, the company has more than 250 employees and delivers its chicks throughout Tunisia.